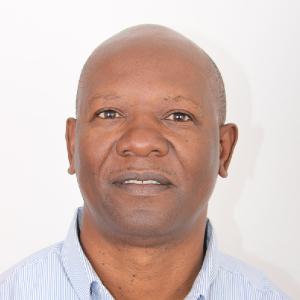 Department of Biomedical Sciences
Biography
Dr Geoffrey Kwenda is a Senior Lecturer in Medical Microbiology and Molecular Biology in the Department of Biomedical Sciences, School of Health Sciences, at the University of Zambia (UNZA). He holds a Ph.D. degree in Molecular Medical Microbiology from the University of the Witwatersrand in South Africa, an MSc degree in Molecular Biology from the Free University of Brussels in Belgium and an Honours BSc degree in Biomedical Sciences from the University of Bradford in the United Kingdom. He is the current leader for the BSc Biomedical Science and MSc Medical Microbiology programmes, both of which are offered through the School of Health Sciences. He is involved in teaching and mentoring both undergraduate and postgraduate students in Medical Microbiology, Molecular Biology, Immunology and Laboratory Management.
Dr. Kwenda is a molecular biologist with significant research, administrative and mentoring experience, and the immediate past Head of the Department of Biomedical Sciences in the School of Health Sciences at UNZA. He is also a former Fogarty Fellow at the University of Nebraska, where he was involved in studying the transmission of Kaposi' Sarcoma-associated Human Herpesvirus (KSHV) in a Zambian population. This ultimately led to his participation on the Malignancies Training and Research International Program (AMTRIP), whose overall aim is to train Zambia fellows in viral and cancer genomics and bioinformatics where he is involved in mentoring postgraduate students on this collaborative project between the University of Nebraska and the University of Zambia. He is also part of the faculty mentoring team of the UNZA-Vanderbilt Training Partnership (UVP) for the HIV-Nutrition-Metabolic Research initiative, which is a response to the need for strengthening the UNZA Ph.D. programme and the culture of mentorship at UNZA. This programme is also contributing to the improvement of the capacity of research laboratories at UNZA and its University Teaching Hospital (UTH) by encompassing 21st-century investigative tools such as whole-genome sequencing, RNA transcriptomics, and bioinformatics. Because of his mentoring skills for postgraduate students, he is also part of the African Centre of Excellence for Infectious Diseases of Humans and Animals (ACEIDHA), which supports the training of MSc and doctoral students in One Health Infectious Diseases. Form March 2016 to March 2018, he was also involved in mentoring residents on the CDC's Field Epidemiology Training Program (FETP) in Zambia on Scientific Communication and Mentorship Programme, whose overall aim was to develop a cadre of in-country scientific communication experts.
Research Interests
His research interests are mainly in infectious diseases, where he uses evolutionary genomics, molecular taxonomy, field ecology, bioinformatics and experimentation to investigate clinical and environmental factors that are driving infectious diseases. Most of his work focuses on the genomic epidemiology of antimicrobial resistance (AMR) in enterobacteria, respiratory pathogens, methicillin-resistant Staphylococcus aureus (MRSA) and Cryptococcus. His ultimate research goal is focused on understanding the natural reservoir of infection and comparing it to what we already know about infectious agents that will help us understand the mechanisms behind disease, informing prevention and treatment strategies, thereby reducing the burden of disease.
Recently, he has also developed an interest in understanding the pathogenesis of HIV-related non-communicable diseases (NCDs) because they are a growing and neglected problem in Zambia and other sub-Saharan African (SSA) countries. The HIV-NCD comorbidity increases the complexity of patient management, often leading to poor health outcomes and increased health care costs. Recognizing that local context, including dietary habits, health behaviours, health systems, and environmental, genetic, and other factors, shapes the distribution and phenotypes of HIV-related NCDs in SSA, these challenges can be most effectively addressed by highly trained local investigators. His interest is in applying genomics and bioinformatics to understanding these diseases.
Contact Details
E-mail: kwenda.geoffrey@unza.zm, Tel: +260-97-942-8815