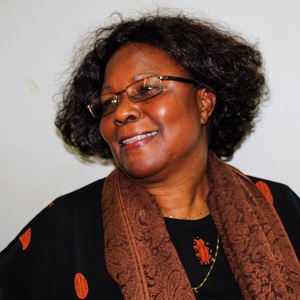 Biography
Dr. Gina Mulapesi-Mulundu is a Senior Lecturer and Researcher at the University of Zambia, School of Medicine. Her involvement in the current UNZA- ACEIDHA project, supported by the World Bank Group for 2017- 2022, is as a partner/coordinator of the MSc course in Infectious diseases of humans and animals. She is also involved in the supervision of postgraduate students at both Masters and Ph.D. levels.
Dr. Mulundu is a Professional Medical Educationist with a philosophical degree (Ph.D.) in Medical Education (HIV Immunology) and expertise in curriculum development, teaching, and learning, currently serving as Director of Teaching & Learning for the School of Medicine. She has 23 years of medical university academic lecturing and research, with bias in Medical Microbiology. Her expertise has spiraled her to be a lead person in formulating curricula for private Medical Universities that include Lusaka Apex and Cavendish. She has also been involved in curriculum development for government institutions such as Chainama for their Medical Licentiate course and continues to be a consultant on the course. 
Dr. Mulundu is also a National Biomarker & Laboratory Manager for Zambia's Demographic and Health Surveys (ZDHS, ANCSS, ZAMPHIA), where she oversees curriculum development, training, execution, and laboratory monitoring. These surveys involve close interaction and extensive liaison with local, international and donor organizations (MoH, CSO, CDC, USAID, ICF) as well as managing appreciable budgets.  
She still saves as a lead person in kit and instrument validation relating to these technologies. Her educational summary includes a BSc (Hons) Medical Microbiology; MSc Medical Microbiology; PGDip Medical Education; Ph.D. Medical Education and numerous specialization certificates in the Science of Medical Microbiology (Bacteriology. Virology, Immunology, Molecular Biology). 
Dr. Mulundu is currently a Senior Lecturer and Researcher in Medical Microbiology and Medical Education at the University of Zambia, School of Medicine. Her publications are available on Google Scholar and/or Publish or Perish where her H-Index is pegged at 9.
Research Interests
Her research interests span over many years in the field of HIV and was the first Zambian to be trained in the techniques of CD4 and Viral Load assays.
Contact Details
Email: gina.mulundu@unza.zm Telephone: +260 977788804